Woodbine™ Jams & Jellies, Inc.

122 Umbarger Rd.
Richwood, WV 26261
304-846-9661
E-mail
About Us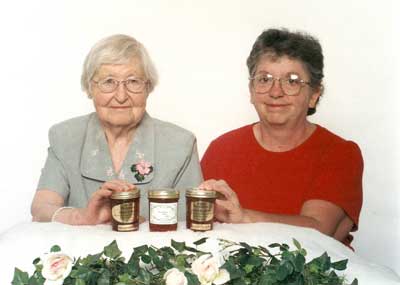 Libby Deitz of Richwood and her associate, Levada Hodovan, started all natural Woodbine Jams & Jellies over 14 years ago. Growing up in Richwood, Libby remembered that her mother always made jams and jellies. She began her own tradition right after she was married. Libby started her business when she was 80 years old and made it a successful venture.
Libby and Levada traveled six miles up a mountain to the New Hope Community Center where the jams and jellies are processed in a commercial kitchen. The center was the grade school where Libby served as principal. They made one batch at a time. It takes 45 minutes for each batch of jam and 30 minutes for each batch of jelly. After the jams and jellies are put into jars the labels are added and the jars are ready for sale.
The berries and fruits are grown in West Virginia and many good friends on the mountain sell berries when they have a surplus. Help also comes from Levada's seven brothers and sisters. When they need berries she contacts them and they head to the woods.
When Libby became unable to continue with the business, Levada carried on the tradition. In April 2009 she presented a complimentary jar of Ramp Jelly to Mayor John McClung of Richwood, "The Ramp Capitol of the World." Ramp Jelly is one of the latest additions to the line of products and is sure to be a big hit at Richwood's Ramp Festival each year.
Woodbine Jams & Jellies is listed by the West Virginia Department of Agriculture as a Producer of Jams & Jellies.