Woodbine™ Jams & Jellies, Inc.

122 Umbarger Rd.
Richwood, WV 26261
304-846-9661
E-mail
Elizabeth Murray Deitz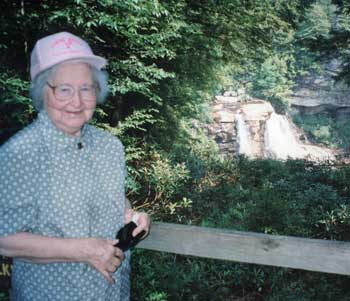 Elizabeth Murray Deitz, 94, of Richwood, died at the Summersville nursing home on January 18, 2010.
Libby, as she was known to everyone, was born in Weirton, WV in May 1915 to the late Alex and Jessie Murray. She was a school teacher and principal for almost 40 years beginning at a one-room school in Dawson in rural Nicholas County. Libby taught for a number of years on a one-year Standard Normal Certificate before going back to Glenville for her four year degree, then to WVU for her master's degree and began work on her doctorate in education. She later served on the Glenville Alumni Board.
After retiring in 1978, Libby then 81, started a business named Woodbine Jams and Jellies with her wonderful friend and partner Levada Hodovan in Richwood. They currently display their jams and jellies at Tamarack, Capital Market in Charleston, and numerous shows.
Libby was a lifelong member of the First Presbyterian Church in Richwood where she served in many capacities. She was active in the Rhododendron Garden Club and a contributor to any civic project in Richwood. Her greatest pleasure was serving a meal to friends who came to Richwood to visit and to give them a jar of jelly on their departure.
Libby was given an award on her 90th birthday by Governor Joe Manchin for her countless hours of service to the Richwood Community.
Libby was preceded in death by her parents, sisters Sandy Jeranko, twin Mary Speidel, Harriet Kimrey; brother, Dr. John Murray, and her beloved daughter, Betsy Carlin.
She is survived by her son, John (and Debbie) Deitz of Hurricane, WV, son-in-law Jim Carlin of Daytona Beach, FL, grandson and wife Jim and Jackie Carlin, great-grand daughter Elizabeth, and many nieces and nephews.
A memorial service will be held in May. Her body was cremated and she will be buried at her memorial service.
The care she was given at Summersville Memorial Hospital was outstanding as well as that of her personal caregivers in Richwood.
In lieu of flowers the family would request friends contribute to their church or charitable organization in Libby's memory. Arrangements were made by Simmons-Coleman Funeral Home, Inc.
MEMORIES OF A REMARKABLE LADY - Maxine Corbett, Richwood Editor (Nicholas Chronicle)
Elizabeth "Libby" Murray Deitz could only be described as "one of a kind." It would be impossible to relate her accomplishments in this life in a simple obituary. She represented many different things to many people. There were numerous aspects to her life. She was a Christian, a wife, a mother, a teacher, a community leader, a business owner; the list goes on and on.
Libby's father, affectionately known as "Doc" Murray, was a pharmacist during the years when Richwood was growing by leaps and bounds. Her mother Jessie was part of the early Richwood community, and both were especially active in church and civic affairs.
Her sisters included Sandy, Mary (Libby's twin), Harriet who died at an early age, and one brother, John, who became a doctor. The siblings remained close through the years, with Libby proud of their accomplishments. She was especially proud of her brother due to his service to the community where he had chosen to practice medicine.
She was even prouder of her own two children, Betsy Carlin (also deceased) who followed in Libby's footsteps and became a teacher, and John who has a real estate/broker/consulting business in Hurricane. The apple of her eye was her grandson, Jim Carlin, and his daughter, a namesake, Elizabeth.
Libby had graduated from Richwood High School at age 16. She attended Glenville College the following year and earned a temporary teaching certificate. Her 37-year teaching career started in 1934 with an assignment at the one-room Dawson School located at Nettie. Her annual salary was a mere $630. The school system did not have the money to pay her, however, so she received an IOU instead. She next taught two years at Tannery Grade School. By the 1946 school term, Libby's salary had been raised to $1,065 a year, and she was teaching at Richwood High School.
She then spent a year teaching in Thomasville, NC, returning to Richwood the following year. Libby continued to tech in Nicholas County until 1968 when she moved to Howard County, MD, where she taught for six years before returning home again to finish out her career, retiring in 1978.
She will be remembered by students who attended New Hope, Fenwick, Nettie, Richwood Grade, South Side and Little Laurel schools. Her favorite grade to teach was undoubtedly first grade. She spent 20 years teaching these novice students a love of learning. She enjoyed telling stories of the students she had met and nurtured.
She worked at a veterans hospital for two years, then for the Internal Revenue Service for an additional three years.
It was after this "adventure" of living away from home that Libby married Howard Deitz, also a native of Richwood. She went back to school, earned a teaching degree, and her career began in earnest. She easily managed being a wife, mother and teacher. At the time of his death in 1984 Libby and Howard had been married 46 years.
Libby Deitz was a story teller. She sprinkled humor liberally in her telling of a good tale, most of which dealt with her classroom experiences of her growing up years in Richwood. She penned stories of her family which are left to be treasured by surviving family members, and those yet unborn who will come to know Libby through her writings.
Her parents were the first couple to be married in Richwood Presbyterian Church, the first established church in Richwood. That church remained the center of Libby's faith throughout her lifetime. She was there every Sunday and was the most faithful when it came to the actual survival of this house of worship. As with most churches today in rural America, membership has declined. Despite this, Libby's faith in God's mercy and her love for this church never waned for one second.
Libby became a business owner at age 82. She founded Woodbine Jams and Jellies" just to see if I could run a business." Of course, she had already had business experience as husband Howard had been the head of Deitz Shoe Store. Libby often helped him with customers when school was not in session, this when Richwood was a "boom town."
She laughed when telling of her venture into the business world. "I had been making jelly and jam for 50 years and giving it away to family and friends. I didn't realize I could have been selling it all those years." That business continues today under the leadership of Libby's friend and "helper" Levada Hodovan. She turned the business over to Levada when age and illness prevented her from continuing with this work. The new owner continues to use Libby's recipes.
Always a wise lady, Libby had said of her business adventure, "I firmly believe that no one is going to rescue us in West Virginia. We must bring prosperity to our own neighborhoods. The only thing I know how to do is make jelly. I was extremely bored with contemplating my own mortality and being old."
There are many who will remember the wonderful taste of her jelly spread on a biscuit Libby had made especially for a meeting or church dinner. She was also a marvelous cook, and a dinner at Libby's table was a feast truly fit for a king.
Her life of community service included being a leader for many youth groups including Girl Scouts and 4-H. She was a longtime active member of the Rhododendron Garden Club. She held membership in the Chesapeake, VA Chapter of the Daughters of the American Revolution.
When she learned a member of her church was illiterate, she immediately took training and joined in tutoring adults. This venture demonstrated that even late in life, Libby Deitz was still dedicated to teaching and to making life better for her fellowman.
She lived on Spruce Street during much of her later life and enjoyed being a good neighbor.
There is no doubt Libby Deitz followed the teachings of her parents who had been the product of values instilled from a Scotch ancestry which included service to community and church. Her last days were spent in the nursing home section of Summersville Memorial Hospital where she was, according to son John, treated like the queen she truly was throughout her long life which was dedicated to family, church and community. John is most thankful for the excellent treatment and attention given to Libby in her final days.
Libby will always be remembered for her laughter, her ability to make others laugh, and a mysterious twinkle in her eye that hinted of adventures yet to come. Her record os service to her family, church, students and community is laudable. These were her priorities throughout her life here on earth.
In addition, she stood for an even playing field for all, and while she was the most kind and generous of ladies, she was not above lashing out against injustice. As I stated in the beginning of this tribute, Libby Deitz was one of a kind. She will long be remembered by all who were privileged to know her.